Rob Ahlers FCCA, RA
Ahlers Consultancy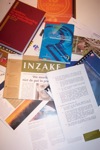 Certified Accountant in the UK and Registeraccountant (Nivra) in The Netherlands. Over thirty years experience in all financial and management aspects of a multi-national environment.
CV includes names such as PricewaterhouseCoopers, Sara Lee, Nivra, Hagemeyer, Sony, Interpublic Group, British Gas, Toshiba, Reed, Lloyd's of London, De Belastingdienst (Dutch tax authorities) and many more.

Available worldwide for financial consultancy in the areas of:
- Financial Reporting:
- Dutch GAAP
- US GAAP
- UK GAAP
- IFRS
- Management accounting
- Consolidations
- Internal control
- Internal audit
- Sarbaines Oxley
- Administrative organization
- Salary administration
- Management Information Systems
- Business valuations
- Tax matters

Also available for the translation of highly technical accounting, fiscal and legal literature (Dutch to UK/US English).

References available on request.

Ahlers Consultancy & Translations BV
Berenstraat 43
1016GG Amsterdam
The Netherlands

Tel +31 614195853

Contact us: rob@ahlersconsultancy.com